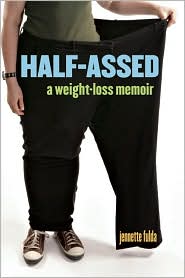 Hey Ya'll,
First up, I was sent a great book to read, with the condition that after I read it, I send it off to someone else to enjoy!! I am almost finished with it, so I am seeking someone who would be interested in receiving it to read as well!
The book is called, Half-Assed a weight loss memoir and written by and about Jennette Fulda. It is the story of her coming to terms with her weight and her extreme desire to lose it! Just to advise upfront, this is not a memoir of someone who had Weight Loss Surgery. Ms Fulda made the decision to lose weight and did it totally by changing her eating habits and forcing herself to start exercising!!
She went from weighting almost 400 lbs and lost over 1/2 her total body weight! It is a fascinating read. I will be happy to send the book to the first person who expresses an interest in it. Either contact me by my e-mail address, or as a comment in my blog!!
Now on to the second part of the Post title. I am still having trouble reading some blogs! In these blogs, I can read the Post Titles, but none of the Post Content or Comments made on them!! The first blog that I had problems with was, "A Southern Girls Journey". Jennifer, I still can't read your blog! Since then, I have noticed that I can't read Drazil's blog, or the blog called, "That's How I Roll".
I quickly (or should I say, after a long, long time tonight) I looked into all of the blogs that I follow, to determine how many blogs that I could longer read. Luckily, I found that only these 3 blogs are unreadable to me. Is anyone else having this problem??? Or am I just the weird one? And if so, then why can I read everyone else's??
I haven't been posting much lately or reading hardly any blogs at all since we are in full tilt to get ourselves out of the house and hopefully into an RV in the next few months!! But the most pressing on me for the past few days is trying to finish scanning the hundreds of photos that we borrowed from Walt's Mom for Walt's Dad's Memorial back in January. She now wants the photos back!! Can you believe this! LOL
And since we are heading back up to Reno, among other places in Nevada this weekend, then we will be taking them back to her. Hence, my rush to scan them!!! I have one more days worth of scanning, then I am done!! At least with the photos that she wants back immediately.
We are also taking up the Red Furniture to our Son, Russ. Then on to stay with Walt's Sister Carol, for a couple of nights before heading back to Reno for my next Fill Appointment on Monday!!! Boy do I ever need it!!! LOL We had to reschedule it from an earlier date, because of Walt's double Ear Infections a few weeks ago.
We had originally intended to ride up to Reno and beyond on the Bike, to give me some time on the Bike to see if I could make the longer distance "ride" to Portland, OR this September pain free. But because we had to reschedule my Fill, we decided it would be best to take up the Red Furniture over the Sierra's, while we still had good weather, and before the Winter Storms hits. Well, it is getting late, and I need to start thinking about going to bed soon! Till next time.
Aloha My Friends :)