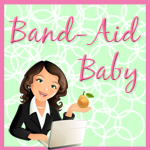 Hey Ya'll,
I was looking at the photo icons of my Followers, and it appears that I missed welcoming someone to my Blog!! I hate that when I miss someone....so I want to officially welcome
Annie
to my blog!!
Annie's
Blog is called,
Band-Aid Baby!
, and
Annie
has been Banded since October 1st, 2010. So if you haven't found her Blog yet, please follow the link I provided above, and give
Annie
a big hello! So
Annie
...."Welcome to my Nightmare!"
Aloha My New Friend :)