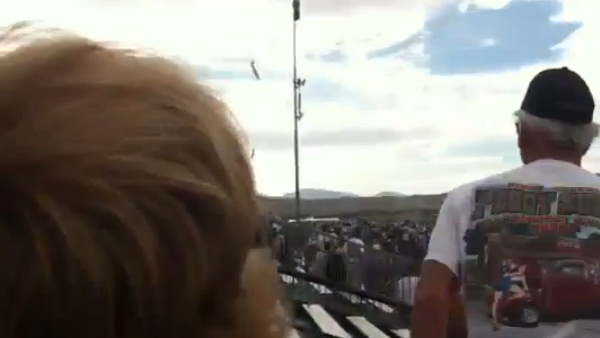 If you look closely just to the right of the person in the foreground and to the left of the pole, you can see the plane heading straight towards the ground!
And here is a photo taken after the crash showing the debris of the crash site. It appears that the plane was totally demolished into small pieces...

****UPDATE****
The last information given out, is saying that the death toll is now up to

11

. But based on survivors information, because the Pilot did his best to veer the Plane away from the Grandstands, instead of 100's to possibly 1000's of Deaths, there was only 10. However, 10 is 10 too many. Unfortunately, we are used to hearing about crashes that killed the Pilot, but this is the 1st year that a crash involved the Spectators....
Hey Ya'll,
I just wanted to make a short post to send out a request for prayers and good thoughts, for those that were either injured at the Reno Air Races today, and to the Families of those that were killed. Yes, killed....luckily Walt and I didn't attend the races this year, as we were considering doing. Many of you may remember my posts talking about our love of Flying and Airplanes. But we have never actually attended the Reno Air Races. But now that we are living here in Reno, we were thinking about going this year.
Today at 4:30 (the last race of the day, the Gold Heat (the fastest planes)), a P-51 Mustang called the Galloping Ghost, lost control while flying around 400 mph, and although it appears that the pilot attempted to miss the Grandstands, he just couldn't miss them entirely. The plane crashed either into the first 2 rows of the Box Seats or just in front of them in a particular set of Grandstands. As of right now, it is known that at least 2 Spectators are dead as well as the Pilot. At least 75 are injured, with 54 seriously enough to be transported to the Hospitals, with at least 25 Critically injured. So please, send your prayers and good thoughts that this is the worst that is reported, that no others will die through the night.
Sorry for the sad post, but I wanted to report this sad accident in hopes of love and prayers to be sent out this way, to the injured and to the families of the injured and dead, as they will need it in the coming days.
Aloha My Friends :(
This is a photo of the pilot Jimmy Leeward taken next to the Galloping Ghost at last years race. Jimmy was 74 yrs old. It is believed that something went wrong with the Airplane, not anything medically with Jimmy.